Introduction
Full automatic juice filling machine for PET bottle is mainly used for all kinds of juice filling. It can conduct the filling process into different kinds of bottles on one machine and can also be used for the other beverage filling. It belongs to Rotary type. The production capacity ranges from 2000-24000BPH.
√√ Brand: Reliable Machinery-- Automatic Filling Machine
√√ Application:Juice, hot drinks, non-carbonated beverage, water
√√ Capacity:4000~6000BPH
√√ Warranty:2 Years
√√ 3 IN 1 Rinsing, Filling, Capping integration machine, 18-18-6 heads
√√ Gas circuit electrical control system, high efficiency and smooth
√√ Stepless speed regulation, frequency convertor motor
√√ Intelligent SIEMENS PLC control and interface screen, automatic easy operation
√√ Stainless Steel 304 outside frame construction, good quality raw material, longer life
Parameter
Model
CGFR12-12-6
Application
juice, hot liquids, non-carbonated beverages, water
Number of washing, filling and capping headsApplication
12-12-6
Production capacity(500ml)
4000~6000 bottles/hour
Filling precision
≤±5mm(liquid level)
Suitable bottle specification
Volume=200-2000ml
Diameter φ=50-110
Bottle height H=150 ~350mm=50-110
Bottle type
Plastic bottle
Bottle neck/Cap Style
Plastic Screw Cap φ=20-50
Machine material
Food stage SS304 OR SS316
Control System
SIMENS PLC+ TOUCH SCREEN
Certificates
CE / SGS / ISO 9001/COC
Production Line
Bottle Blower / Water Treatment / Drink Mixing / 3 in 1 Filling Machine /
Labeling / Code Printer / Packing Machine / Injection Molding Machine
Bottle Blowing Machine

Full automatic bottle blow molding machine, with capacity from 1000 to 24,000bph. Suitable for blowing PET bottles of various shapes, volume from 100 ml to 2000 ml. Reliable offer free bottle design service, we can customize drawings according to your requirements,welcome you contact to ask for previous designs for reference too.

Water Treatment & Mixing System

Reliable machinery customize suitable water treatment system based on customer's raw water analysis report, to make water quality fully meet the state drinking water standards. Complete mixing system used to produce carbonated soft drinks, designed based on customer's formulations. Best welding, polishing working with high quality stainless steel 304/316. Scientific process design. Automatic control.

Filling Machine

This 3-in-1 juice hot filling machine for PET bottle integrates the functions of rinsing, filling and capping together. Based on advanced technology overseas and designed according to the filling processing demands of beverages etc.

Labeling Machine

It's used for placing labels on bottles after filling process. Have different types for chosen: PVC shrink sleeve label, self adhesive label, OPP hot melt glue label. Free beautiful label designs and one-stop label purchase service are offered, welcome to inquiry.
Features
Structure of Filling Machine
Washing, filling ,capping three in one monoblock equipment. By changing a few parts, it can meet the need of production and different types of bottles from 200ml to 2 liters easily. Reliable special customized filling valve makes the filling speed fast and the filling liquid level control correct. Machine structure is compact , equip with Siemens touch screen and PLC control system.
Machine body and all pipes are made of SUS304. Door and frame are all made of SUS304 combined with nano glass to reduce the chance of glass damage during transportation.
Electric box is installed inside of the filling machine, saving more factory space. Set red emergency stop button to strengthen security. External air box is provided, convenient for observing the air volume outside and more neat. PLC is Siemens brand, and all other electrical brands are Siemens, Schneider and same level famous brands.
Any kinds of carbonated or non-carbonated beverages, such as: cola, sprite, energy drink, soft drink, sparkling beverage, soda water, and so on. Different shapes of plastic bottles from 200ml to 2 liters.
Reliable machinery can offer free bottle & factory designs. And offer communication on beverage formulas. A to Z solution is available to get.
We are committed to deliver your machines promptly, all the machines will be delivered within the date specified in contract, besides, quality is the most important and guaranteed.
Standard export packing is taken, major products using export plywood case packing, small products use thick carton packing, ensure that the product packaging integrity and safety.
Contact Us Now
Certificate
Case
Project: Ghana 12000 BPH Energy Drink Production Line
Location: Accra, Ghana
Commissioning: RELIABLE Technician Team
Scope: Including
* Bottle Blowing Machine
* Water Treatment System
* Carbonated Drink Mixing System
* Bottle Filling To Packing System
One of the Ghana factory sites of 12000 BPH bottled energy drink production line recently launched successfully in 2021, which is inseparable from everyone's efforts!
Learn more
Reliable Service System
High quality service process, create maximum value for you and your factory
Establish connection & joint hands
Reliable feasibility analysis
Attention to details & project process design
Closely tracking on production progress
Full set after-sales & installation adjustment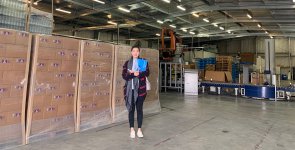 Continuous service & customer first
One-stop purchasing service
Learn more